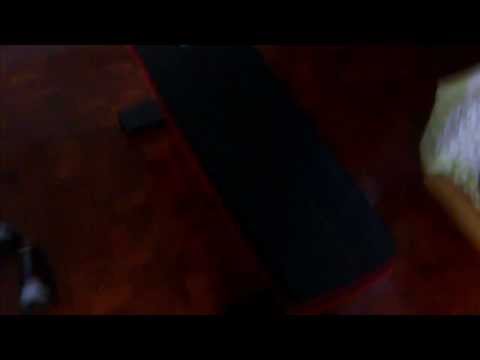 A few simple and inexpensive equipment could make body weight exercises much more challenging and effective. Adidas  flat bench is one of them.
It is a functional compact weight bench that is smaller than many other benches which make it a perfect solution for those with small space.
The Adidas Flat Bench is a compact but functional bench that allows you to perform a wide range of body weight and free weight exercises. It's much smaller than most other benches on the market which makes it a perfect choice if you have a limited amount of space in your home workout area. However, despite the small size, it's extremely sturdy and durable and can stand up to the demands of a rigorous workout.
Adidas Flat Weight Bench Features:
Compact design and small footprint. 44 by 19 by 17 inches weighing 33 pounds.
Leather exterior to withstand continuous use.
Solid support with large size steel tubing
Comfortable 2.5 inch thick high-density pad
Limited warranty for two years.
Bench size = 44 inches by 19 inches by 17 inches.
A maximum weight capacity of 600 lbs. A three hundred pound football player could do 300 pounds press on it.
Good Points:
Sturdy:  In a weight bench you want sturdy.  Adidas Flat Bench provides that. It won't rock, it won't wobble even if a person weighs 300 pounds and lifts 300 pounds.
Comfortable:  A concrete block is also sturdy. Comfort is important and Adidas delivers superior comfort with its dense and thick padding. You like this during light lifting, and you need it during heavy lifting.
Appropriate weight:  At 33 lbs, Adidas bench is easy to move fast to adjust to your needs. And you can put it away quickly when done.
Easy Assembly: You can put this bench together fast. In less than 15 minutes.
Bad Points:
No Foot Padding: It will scratch a soft surface.  If your floor is unprotected, you need a protective mat.
Sale
Bestseller No. 1
Marcy Flat Utility 600 lbs Capacity Weight Bench for Weight Training and Ab Exercises SB-315
FULL-BODY WORKOUT – This Flat Utility Bench is a high-functioning workout equipment that lets you perform a full-body workout to enhance your body the way you want. Build a better-looking physique by doing different exercises with this versatile bench.
HEAVY-DUTY CONSTRUCTION – This bench has a durable construction providing a max weight capacity of 600 lbs. The heavy-duty steel tube frame ensures steady support for the bench, and the high-density foam and boxed upholstery provides maximum comfort.
SPACE-SAVING DESIGN – This bench is designed for perfect space-saving. Its heavy-duty steel frame is highly durable and is designed to maximize your mobility. Make every workout more efficient that combines practical design and performance!
Bestseller No. 2
Bestseller No. 3
Bestseller No. 4
MaxKare Flat Weight Bench 600 LBS Capacity 42x18.5x19'' Workout Exercise Fitness Bench Thick Backrest Cushion for Home Gym Strength Training
💪【Multipurpose Bench for Home Use】Enhance your physique by doing different exercises with this versatile bench! Perform strength-training exercises, bench press, free weights, and crunches as well as dumbbell and weight training. Ideal for both beginning and advanced levels.
💪【600lbs Weight Capacity】Built with heavy-duty commercial quality steel pipes(0.06" thick and 1.5"x1.5" in diameter), past thousands of weight test for a safe muscle building free weight workout. Upside-down T-shaped feet with 4 anti-slip rubber caps for reliable stability.
💪【User-friendly】Maxkare Flat Weight Bench well suits people from 4.9-6.3 ft height with extra long backrest sponge cushion(42" L x 11.8" W). 2'' thick sponge backrest keep you comfortable throughout your workout sessions. The height from floor to top of seat is 19''.
Sale
Bestseller No. 5
Bestseller No. 6
Marcy Deluxe Versatile Flat Bench Workout Utility Bench with Steel Frame SB-10510
Thick High-density Foam – The Marcy Deluxe Flat Bench sports an oversized bench seat with a 2.5" seat pad. It features high-density foam padding with a double-stitched vinyl cover for comfort and functionality.
Durable Construction – This ergonomic weight bench has a large diameter steel tubing frame with a powder-coated finish. The bench exemplifies sturdiness and durability.
Low-profile Design– This bench has a low-profile design. It consumes minimal space in order to grant more room for your other equipment. Aesthetically, it can be placed anywhere at home, whether in a bedroom or the garage.
Bestseller No. 7
Flat Bench Workout Bench–Gym Quality Foldable Flat–Weight Bench for Dumbbell & Barbell Press Workouts, Garage and Home Gym (A, Black)
Economical and Durable Weight Bench, Adjustable Strength Training Bench for Full Body Workout with Fast Folding- Flat Utility 600 lbs Capacity Weight Bench.
Ergonomic designed bench- Compact yet multifunctional. The equipment is shaped in a way that allows maximum mobility when performing exercises without taking up too much space in your home.
Features a soft leather which is filled with dense foam padding so it is comfortable to do multiple exercises. It allows for a wide array of strength-training exercises that focus on the arms, legs, chest.
Bestseller No. 8
Steelbody Deluxe Versatile Rated 800 lbs Flat Utility Workout Bench Station for Home Gym Weightlifting and Strength Training STB-10101
FULL-BODY WORKOUT -The Steelbody Flat Utility Bench lets you get a full-body workout so you can chisel your body the way you want it. Paring with free weights such as dumbbells allows you to do a variety of exercises with this versatile equipment.
HEAVY-DUTY CONSTRUCTION – With a maximum weight capacity of 800 lbs., this bench is made of durable, high-quality steel. The heavy-duty steel frame ensures steady support for the bench; the foot pads and end caps keep it from moving while you train.
TRANSPORT WHEELS – This gym bench is designed to fit in any room without taking up too much space. The sturdy transport wheels and handle allow you to move the unit from the gym or recreation room and conveniently store it anywhere in your home.
Bestseller No. 9
CAP Barbell Flat Utility Bench, Black/Gray
Specs - Assembled dimensions are 43 x 19 x 17 inches.
Heavy-duty construction - Built with 2 mm 3 x 1. 5-Inch steel tubing allows this bench to safely handle heavy weight loads. Tested based on ASTM standards to hold up to 1, 000 lbs. Recommended Max weight capacity of 600 lbs.
Comfortable padding - double stitched boxed pad is comfortable yet firm utilizing new foam material and carb compliant plywood.
Bestseller No. 10
---
Other Weight Benches